Homepage
Open courses
The following courses are open for applications.
Training of Trainers Workshop (M1-M4) - Las Palmas - 2023
E-learning: 12 December 2022 - 27 January 2023
Workshop: 8-15 February 2023, Las Palmas de Gran Canaria, Spain
Dates:

Course starts on 08/02/2023
Course ends on 15/02/2023

Working language: English
Digital Identity for Trade and Development for SIDS 2023 (DITD)
The objective of the course is to identify and draft policies on digital identity related to trade and development. It includes defining:
· The limits of data protection and digital identity
· The scope of digital identity governance
· The risks and solutions related to digital identity
The registration is open to all relevant stakeholders from SITS and delegates from permanent missions in Geneva. We particularly encourage the participation of women.
Dates:

Course starts on 13/02/2023
Course ends on 31/03/2023

Working language: English
Curso de Puertos Resilientes Ante las Pandemias 2023
El objetivo del curso de Puertos Resilientes ante las Pandemias de la UNCTAD/TrainForTrade es apoyar y preparar la aplicación de medidas para paliar las contingencias relacionadas con una pandemia en una comunidad portuaria.
Más concretamente, al finalizar el curso, se podrá:
Describir y preparar protocolos de crisis
Preparar estrategias de comunicación y aplicar herramientas de comunicación digital eficaces
Apreciar los impactos potenciales de las pandemias en el bienestar del personal y abordar problemas relacionados con la angustia y estrés
Identificar soluciones tecnológicas apropiadas para modalidades de trabajo alternativos
Evaluar los escenarios de interrupción de la carga y los pasajeros
Identificar los riesgos legales y financieros
Definir las medidas de mitigación adecuadas
Estructura del curso
Es un curso en línea facilitado por expertos/as portuarios, con una estructura de tareas que se deben cumplimentar durante la semana a su propio ritmo. Las actividades incluyen lecturas, videos, foros y cuestionarios de opinión. Al finalizar las dos semanas que llevarán a cabo dos ejercicios de simulación y un seminario web (véase el programa más abajo para más detalles).
El curso online moderado está estructurado en cuatro secciones, dando una visión precisa y ordenada de los diferentes aspectos a tener en cuenta por parte de un puerto u organización portuaria en una situación de pandemia. Considera tanto una visión general como acciones específicas, la parte psicológica y emocional relacionada con los trabajadores, las herramientas tecnológicas, y también considera acciones relacionadas con el aseguramiento de la actividad principal de un puerto en la gestión del flujo de mercancías
Se facilitarán los foros de discusión de cada una de las secciones del curso. El tiempo estimado para completar todas las actividades del curso es de unas 20 horas.
SECCIÓN 1 Protocolo de crisis y estrategia de comunicación
SECCIÓN 2 Gestión del personal, bienestar y resiliencia
SECCIÓN 3 Preparación tecnológica
SECCIÓN 4 Continuidad del flujo de carga
Dates:

Course starts on 06/03/2023
Course ends on 31/03/2023

Working language: Spanish
Building Port Resilience Against Pandemics 2023 (BPR)
The objective of UNCTAD TrainForTrade's Building Port Resilience Against Pandemics (BPR) special course is to support the implementation of measures and to prepare for and alleviate contingencies related to a pandemic in a port, port terminals, and other seaport actors
More specifically, at the end of the course, participants will be able to:
Describe and prepare crisis protocols
Prepare communication strategies and implement effective digital communication tools
Appreciate the potential impacts of pandemics on staff well-being and address any mental and emotional distress-related issues
Identify appropriate technology solutions for alternative work arrangements
Assess disruption scenarios for cargoes and passengers
Identify legal and financial risks
This is an asynchronous/self-paced moderated online course that is delivered over a period of two weeks, and followed by two simulation exercises and a webinar. Port experts will engage with participants online in the forum discussions for each of the course sections. The estimated time needed to complete the course activities is about 20 hours.
The online moderated course is structured in four sections, giving a precise and ordered view of the different aspects to be taken into account by a port or port organisation in a pandemic situation. It considers both a general vision and specific actions, the psychological and emotional part related to workers, the technological tools, and also considers actions related to ensuring the main activity of a port in the management of the flow of goods:
SECTION 1 Crisis protocol and communication strategy
SECTION 2 Staff management, well-being and resilience
SECTION 3 Technology preparedness
SECTION 4 Cargo flow continuity
Dates:

Course starts on 06/03/2023
Course ends on 31/03/2023

Working language: English
Développer la résilience des ports face aux pandémies 2023
L'objectif du cours spécial « Développer la résilience des ports contre les pandémies » de la CNUCED TrainForTrade est de soutenir la mise en œuvre de mesures et de se préparer et d'atténuer les éventualités liées à une pandémie dans un port, des terminaux portuaires et d'autres acteurs des ports maritimes.
Plus précisément, à la fin du cours, les participants seront capables de :
Décrire et préparer des protocoles de crise
Préparer des stratégies de communication et mettre en place des outils de communication numériques efficaces
Apprécier les impacts potentiels des pandémies sur le bien-être du personnel et traiter tout problème lié à la détresse mentale et émotionnelle
Identifier des solutions technologiques appropriées pour des modalités de travail alternatives
Évaluer les scénarios de perturbation pour les cargaisons et les passagers
Identifier les risques juridiques et financiers
Définir des mesures d'atténuation appropriées
Il s'agit d'un cours en ligne modéré asynchrone/auto-rythmé qui est dispensé sur une période de deux semaines, et suivi de deux exercices de simulation et d'un webinaire (voir l'ordre du jour ci-dessous pour plus de détails). Les experts portuaires dialogueront avec les participants en ligne dans les discussions du forum pour chacune des sections du cours. Le temps estimé nécessaire pour terminer les activités du cours est d'environ 20 heures.
Le cours modéré en ligne est structuré en quatre sections, donnant une vision précise et ordonnée des différents aspects à prendre en compte par un port ou une organisation portuaire en situation de pandémie. Il envisage à la fois une vision générale et des actions spécifiques, la partie psychologique et émotionnelle liée aux travailleurs, les outils technologiques, et envisage également des actions liées à assurer l'activité principale d'un port dans la gestion des flux de marchandises :
SECTION 1 : Protocole de crise et stratégie de communication
SECTION 2 : Gestion du personnel, bien-être et résilience
SECTION 3 : Préparation technologique
SECTION 4 : Continuité du flux de marchandises
Dates:

Course starts on 06/03/2023
Course ends on 31/03/2023

Working language: French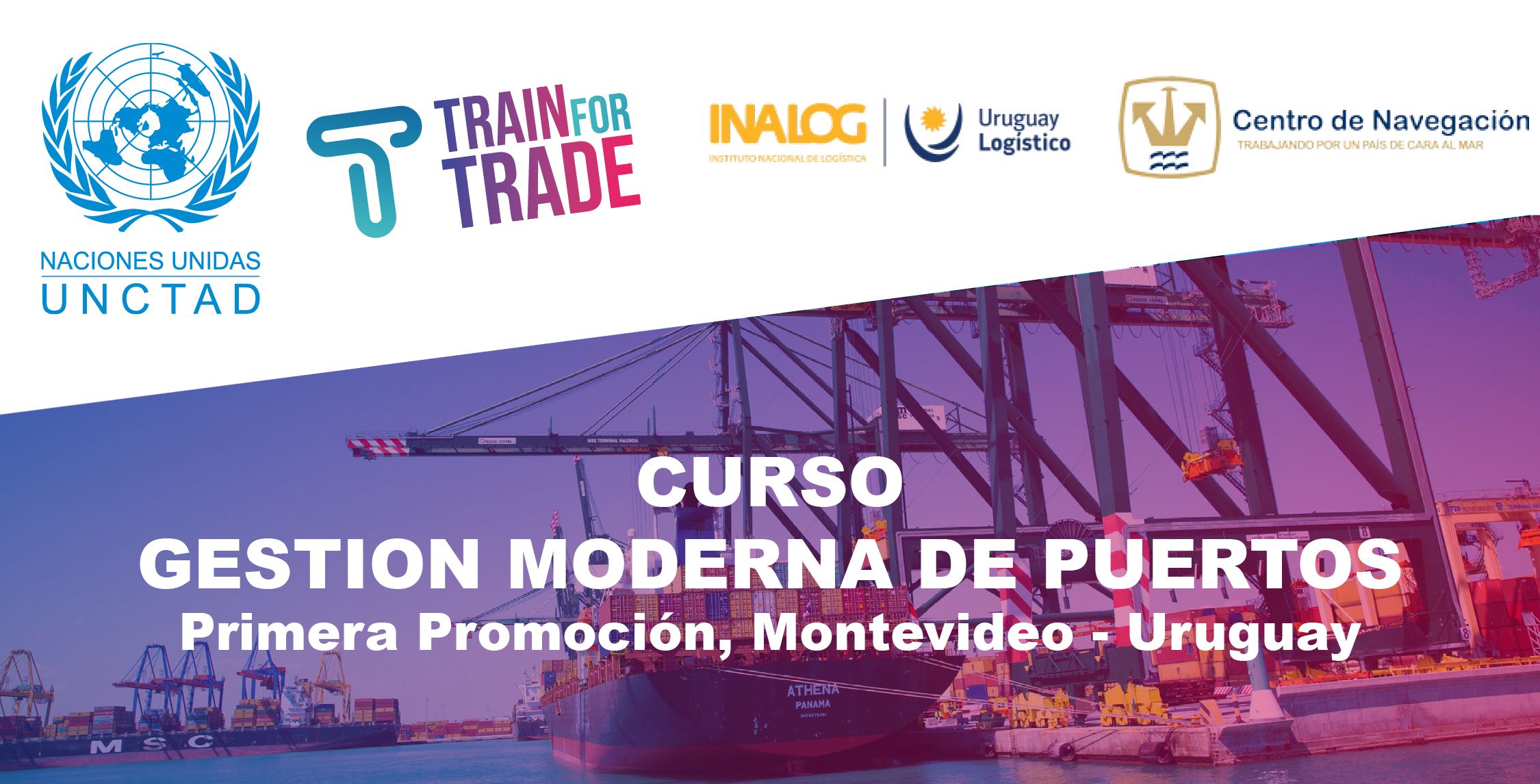 Uruguay - Promoción 2023 - 2024
Primer curso de
Gestión Moderna de Puertos
Organizado en cooperación con INALOG y CENNAVE con el apoyo de las Autoridades Portuarias de Gijón y Valencia
Dates:

Course starts on 14/03/2023
Course ends on 31/10/2024

Working language: Spanish
Conferencia sobre Desafíos Energéticos y Transformación Digital de los Puertos
Los objetivos de la conferencia son:
Describir el impacto del cambio climático en los puertos
Identificar y analizar los desafíos energéticos en los puertos
Identificar los desafíos logísticos en la cadena de transporte
Discriminar las principales tecnologías que están impulsando la transformación digital de los puertos
20 de marzo de 2023
DESAFIOS ENERGETICOS DE LOS PUERTOS
El Impacto del cambio climático en los puertos
Los retos del cambio climático y la transición energética
Soluciones de Descarbonización Portuaria
Acelerando la Transformación Energética

21 de marzo de 2023
TRANSFORMACION DIGITAL E INNOVACION EN LOS PUERTOS
Desafíos Logísticos en la Cadena de Transporte
Arquitectura Tecnológica para la Transformación Digital
Nuevos Modelos de Innovación en Puertos
Estrategias de Transformación Digital e Innovación
Dates:

Course starts on 20/03/2023
Course ends on 21/03/2023

Working language: Spanish